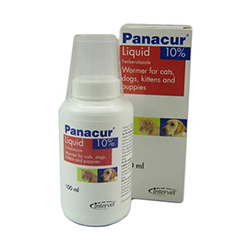 Panacur Oral Suspension For Dogs And Cats 100 Ml
Panacur Oral Suspension is a broad spectrum wormer for the treatment of dogs and puppies infected with Roundworms, Tapeworms and Lungworms. Buy Panacur Oral Suspension for Dogs for the treatment for astro-intestinal roundworms and tapeworms at affordable prices with free shipping in USA.
Best Price: $31.76 from Best Vet Care
Results from Amazon.com...
Sorry, no results from Amazon were found!